Streamline your operations and protect the quality of your inventory with Florida cross-docking services. Cross-docking is the practice of accepting and unloading inbound truck inventory and simultaneously loading these products into outbound transportation to be delivered to their final destination. The process requires little to no storage at the intermediary shipping location. When you incorporate cross-docking capabilities into your cold food storage warehousing and shipping operations, you can expect to lower your overhead costs and be better equipped to introduce new products to the market faster.
Central Florida Freezer is Florida's best cold food storage and shipping company, specializing in flexible cold, ambient and freezer warehousing and comprehensive third-party logistic services featuring a variety of efficient cross-docking capabilities. With our commercial warehouse cross-docking services, we can better manage truckload inventories and reduce costly and inefficient warehousing. By using specific staging areas and timely truck turnarounds, we can quickly sort through inventory, pick and pack items as requested or prepare outbound shipments to be delivered at a specific location.
With our cross-docking services, we ensure improved product quality, reduced delivery times, and greater customer satisfaction that reduce your operational costs and help grow your market share.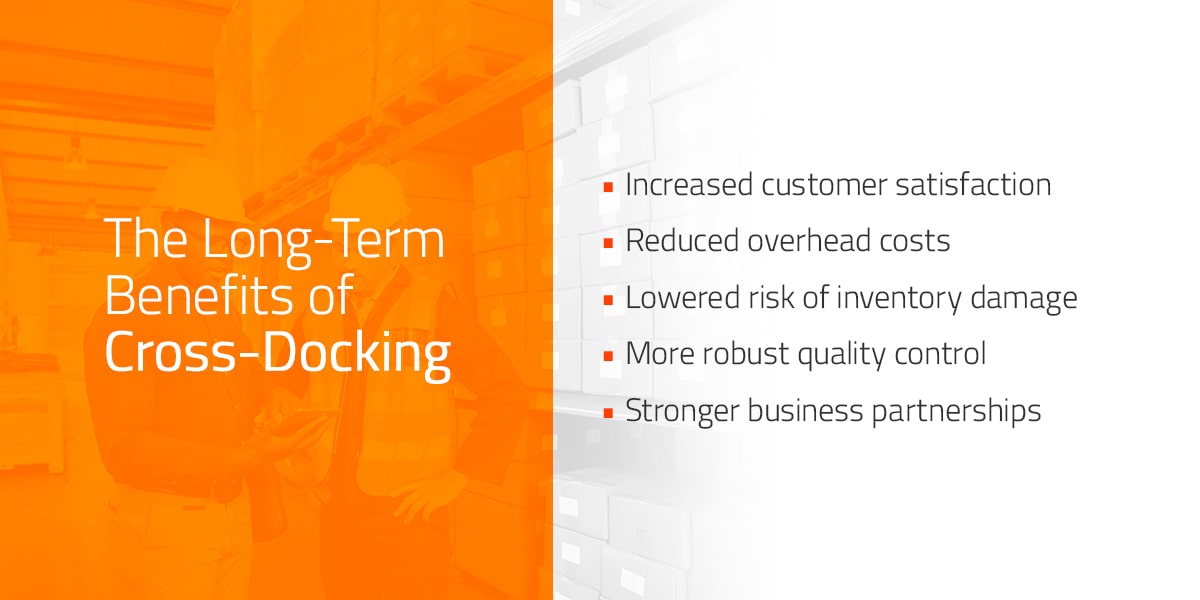 The Long-Term Benefits of Cross-Docking
Working with an efficient cross-docking service like Central Florida Freezer in Orlando will help streamline your supply chain from the point of origin all the way to the sale location. Companies who successfully incorporate cross-docking into their logistics strategy experience many long-term benefits, including:
Increased customer satisfaction: Less time in a warehouse means quicker shipping, which in turn results in customers receiving their products faster.
Reduced overhead costs: Decreased storage time and optimized routing cut down on or even eliminate certain labor, transportation and warehousing costs.
Lowered risk of inventory damage: Since cross-docking services eliminates the need for long-term storage, your stock is more likely to stay protected in warehousing facilities.
More robust quality control: Because this process removes the warehousing step, staff members are able to manually inspect products for damage immediately after removing them from the truck.
Stronger business partnerships: A streamlined supply chain means better relationships at every level, from origin to end-user.
Efficient & Cost-Effective Cross Docking
At Central Florida Freezer, we've developed the most effective cold storage cross docking solutions. With advanced inventory management systems and efficient truck scheduling and operations, we can expertly track and manage a range of delivery sizes and specifications. Once the initial shipment has arrived at our storage facility, we have the ability to quickly designate areas for short-term climate-controlled storage while customers finalize their shipment needs.
Our highly trained and experienced team has the expertise and flexibility necessary to accommodate several shipment and storage requests at one time. Whether you need to consolidate multiple smaller shipments into one large shipment, separate larger inventory into smaller shipments for different locations, or divide inventory into different storage and shipment needs, you can count on our team to execute your request efficiently and precisely to ensure timely and accurate deliveries.
Request a Quote
The Central Florida Freezer Difference
Central Florida Freezer is the premier cold storage warehousing and shipment facility in Central Florida because of our personalized storage solutions, advanced facilities and dedicated team of professionals. With Central Florida Freezer as your trusted partner, you'll benefit from:
Superior cold storage facility: Our five-million-cubic-foot, climate-controlled storage facility features the most up-to-date improvements and industry upgrades to ensure a clean and organized storage space that reliably preserves your inventory. To minimize inventory loss even during storms and hurricanes, our storage warehouse is under constant 24/7 surveillance and utilizes backup generators in case the facility ever loses power.
More accurate inventory control: Maintaining accurate, ongoing records of inventory can be time-consuming, but our advanced inventory management and control system allows for the most accurate and up-to-date account of your products that can easily coordinate precise shipping directly to customers and wholesalers.
Streamlined truck loading and shipping: To ensure exceptional cross-docking services, we've streamlined our process to be the most efficient and effective solution throughout Central Florida for the convenience of our customers. We're proud to maintain nearly zero detention as well as a rate of 99 percent on-time cold storage deliveries.
Streamline Your Business Storage Operations With Central Florida Freezer
At Central Florida Freezer, we pride ourselves on offering the most reliable and efficient cold storage cross-docking services for businesses in the Orlando area. To streamline your operations and reduce costs, we also offer comprehensive, competitively priced commercial warehousing solutions with various storage options and helpful third-party logistics services.
For the best frozen food transportation in Orlando, call the professionals at Central Florida Freezer today at 352-575-9988 or fill out our online form to request a free service quote.