Deciding to freeze your food items offers your business flexibility, allowing you to choose seasonal ingredients as needed, easily adapt to food market demands and preserve the quality of your food and produce. Frozen storage is primarily used for dairy products, such as ice cream, or meats and cheeses. It can also be used to store seafood- such as shrimp- popsicles, burgers and more. Choosing to freeze your food items is also a superior method to canning or dehydration.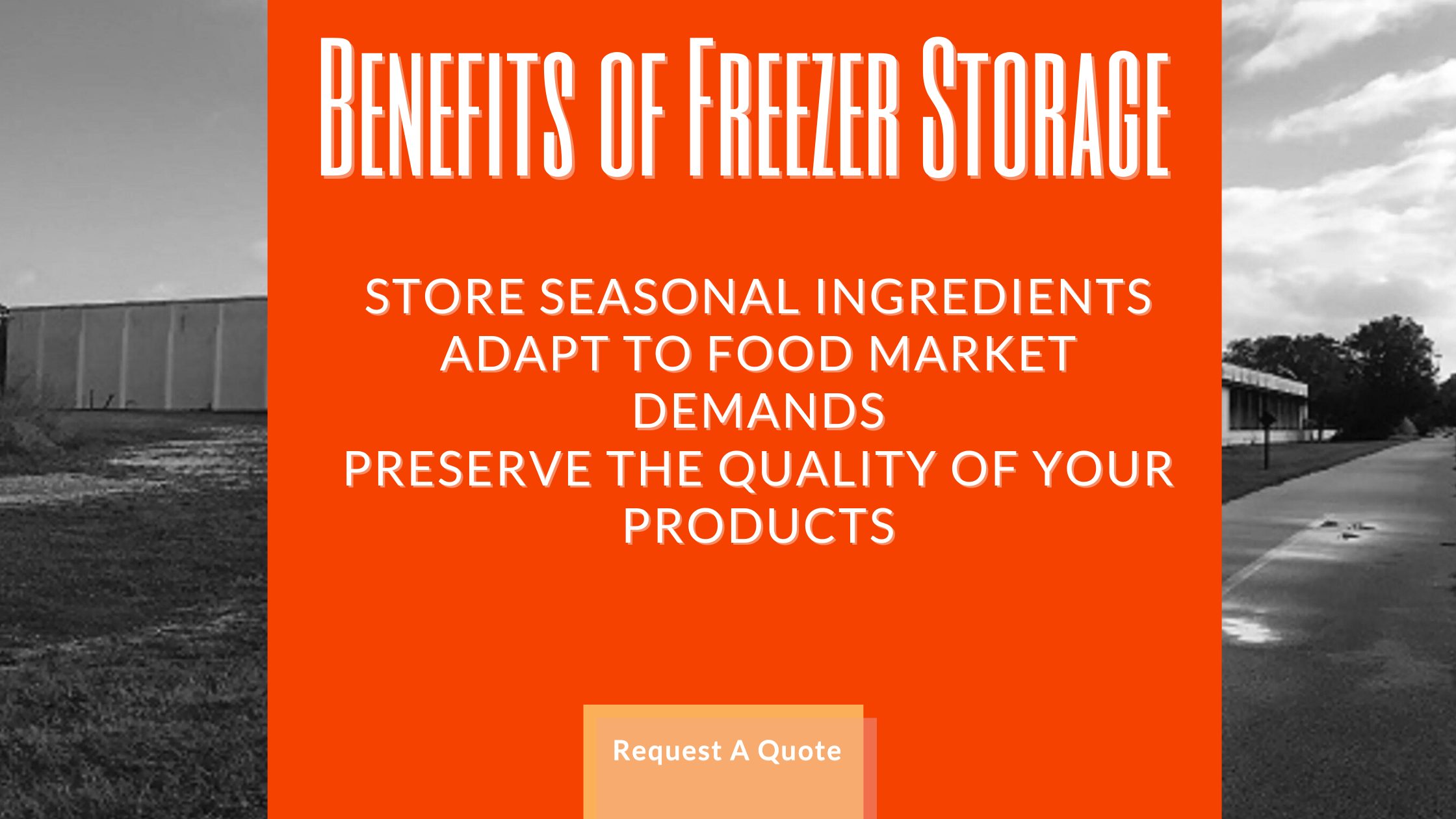 At Central Florida Freezer, we offer over five million cubic square feet of adaptable and reliable freeze storage. Our freezer storage warehouse uses the most modern equipment to maintain low temperatures of 0 to 10 degrees consistently. We also pride ourselves on offering a freezer storage facility that features:
Benefits of a Freezer Storage Warehouse in Florida
Regulated and Dependable Freezer Storage in Flordia: Our large freezer storage unit is suitable for your inventory, large or small. We have clean, organized and accessible space that we keep monitored and temperature-controlled. In case of a power outage due to Florida hurricanes or tropical storms, our freezer warehouse features a backup generator to maintain the precise temperature of your goods, so they don't spoil or ruin.
Added Security Monitoring and Protection: We guarantee customers that while their inventory is being stored with us, we take measures to ensure their goods are always safe and secure. At our freezer storage facility, we have the best and most reliable warehouse management software that features a continuous web stream of your goods. We also utilize a 24-hour video surveillance monitoring system and employ a team of onsite security to regulate the storage areas.
Food Grade Affiliations: For added peace of mind, we maintain long-term relationships with credible organizations such as the American Frozen Food Institute, the Institute of Ammonia Refrigeration and the National Frozen and Refrigerated Foods Association, among others.
Reliable Inventory Control: With Central Florida Freezer's advanced and reliable inventory control system, you never have to stress about keeping precise account of your inventory. For all of our clients, once your inventory has been placed in our freezer storage unit, we'll keep an accurate record of your goods.
Efficient Truck Loading and Shipping: What differentiates Central Florida Freezer from other freezer storage facilities located throughout Central Florida is our efficient, prepared, and reliable loading and shipping capabilities. We provide cross-docking capabilities, so you can easily load and unload inventory at one time, in a single truck. By using our advanced inventory system and organized trucking operations, we can ship your inventory from the warehouse directly to consumers or wholesalers.
Freezer Storage For Commercial Use
To preserve and freeze your inventory, trust the capable experts at Central Florida Freezer. We offer competitive pricing and a wide range of useful and reliable services including versatile storage options, continuous security monitoring, inventory control, 3PL services, and trucking and shipping services. Schedule our freezer storage services today by speaking to one of our specialists at 352-575-9988. You can either request a quote or complete our online contact form to learn more about our storage options.