Benefits of Commercial Picking and Packing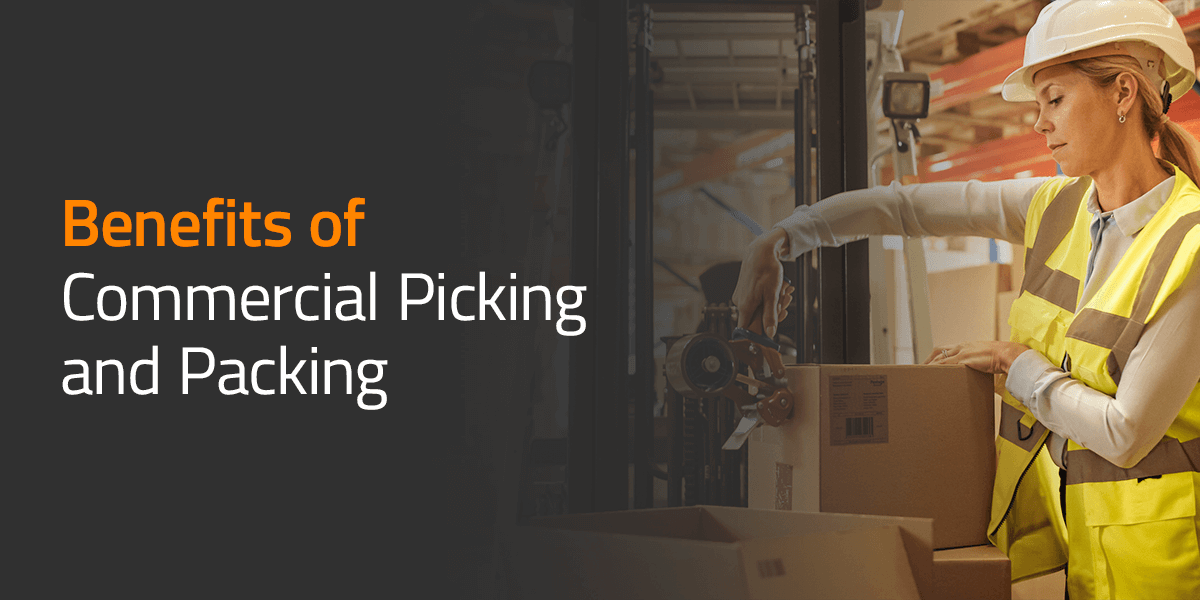 Corporations that make perishable goods should take the efficiency of their operations seriously. Whenever an order comes in, you should have an effective system in place that prioritizes orders, picking, packing and shipping them to all customers. With all that goes into this process, it's easy to visualize and understand the importance of a warehouse's pick and pack fulfillment, especially when it comes to food and beverage products.
The planning and execution of picking and packing aren't always easy. That's why many businesses resort to commercial picking and packing. If you haven't thought about making this shift with your business, keep reading to learn more about the commercial benefits of pick and pack.
What Is Picking and Packing?
Essentially, the meaning of "pick and pack" describes everything involved in the order process at a warehouse, from pulling the items from their exact locations in the facility to packaging them in compliance with the customer's specific requirements. To break this process down even further, there are two distinct parts of the picking and packing process, both of which involve different elements.
Let's take a look at the four general steps that happen when picking and packing.
Order Received
Before the process begins, the order must be received. In commercial picking and packing, your e-commerce sales channels integrate with the warehouse system. When a customer places an order, the software at the warehouse creates a packing slip with all the information a worker needs to pack the order.
Order Picking
When warehouse picking and packing occurs, the worker uses the packing slip as a list to find the product the customer ordered in the warehouse inventory. In addition to finding the right item, the worker needs to select the right quantity of each item.
Order Packing
After the worker picks the correct items for the order, it's time to move on to packing. This step consists of the warehouse worker placing the picked items in the proper container before marking or placing it for shipment. Along with the proper container, the worker must include and attach the appropriate packing materials and labels to the order. Then, they should seal and pack the container properly to prevent any damages to the customer's order.
Order Shipping
Once the worker packs the order, the mail carrier eventually receives the package and ships it to the customer.
Picking and Packing Fulfillment Best Practices
The efficiency of order fulfillment has become a key component in logistics management, as the demand for quicker delivery is at an all-time high. Not all warehouses use the same logistics to pick and pack, but there are standard best practices all shipping companies should follow to ensure fulfillment.
Organization by popular items: There will always be products that tend to outperform others, so sorting your warehouse to put popular items together may improve efficiency. If the inventory is grouped from fastest-moving to slowest-moving, you can cut down on travel time for picking. It can also help reduce the time spent figuring out what popular items are running low.
Inventory availability: All inventory must be 100% accurate and available. Creating a replenishment system helps decrease instances where a picker goes looking for unavailable items. Another tip is to generate picking lists that only include in-stock items. This strategy will help avoid any confusion or unnecessary travel time.
Storage improvements: If the current storage strategy you're using isn't working, it may be time to switch up the strategy. For example, slotting may be a way to improve storage, reduce product damage, decrease congestion and improve efficiency. It's best practice to review these strategies regularly due to elements like seasonal demand.
Defined route path: Establishing a route path from the beginning will make everything run smoother in the order picking process. The "route" is essentially the path all items of an order pass through. There are several routing strategies to consider, but one factor to always keep in mind is that the shorter the route, the less order picking costs will be.
Re-scanning: To avoid packing mistakes, rescanning all products within an order is a must. This action will ensure the items on the packing slip are the ones that go in the box.
Packing instructions: To keep processes fast-paced, including infill instructions for the packer is extremely helpful. This way, they don't have to guess the proper box size and packing materials for their orders.
Advantages of Pick and Pack Order Fulfillment
There are many advantages of utilizing pick and pack order fulfillment, but there are three advantages every corporation should take into consideration.
1. Efficiency
As mentioned before, improving efficiency is a significant advantage that impacts the warehouse processes as a whole. Using the right pick and pack strategy will speed up the picking and packing process. Having all goods inventoried, stored, picked and packed in one place makes everything easier.
2. Cost-Effectiveness
If done strategically, pick and pack in a warehouse is a great way to minimize operational costs. Having a fulfillment management system in place will help optimize the storage space in the warehouse and speed up getting orders fulfilled while giving the overall operation a boost. As a result, you'll reduce costs.
3. Customer Experience
One of the main goals of businesses that sell goods is to make sure the orders customers place get to them intact and on time. Commercial picking and packing have proven to improve customer satisfaction by speeding up the delivery process. Delivery is included in the overall shopping experience, so using pick and pack will help your corporation exceed customer expectations.
Considerations for a Pick and Pack Warehouse Setup
The way a warehouse is laid out and set up affects the efficiency of the pick and pack process. The most effective way to maximize the space within the warehouse is to be intentional with how items are arranged and how the workers can work around it. Look into the best product organization approach for your workers, whether by popularity, alphabetically, numerically or otherwise.
Along with having a good layout established, the cleanliness of the warehouse is just as important. Having a tidy and organized warehouse will make it easier for picking and packing execution. For example, keeping designated areas for storage, quality checks, picking, packing and shipping is a layout for success. Alternatively, a messy warehouse will make picking and packing a daily challenge, costing you time and money.
Contact Central Florida Freezer for Commercial Pick and Pack Services Near You
At Central Florida Freezer, we're experts in picking and packing services for businesses in Central Florida. With our pick and packing services, you can trust that all orders are fulfilled using a top-of-the-line inventory management system. Contact us to get a free quote on our picking and packing services today.