Prepare Warehouse for a Hurricane
Hurricane Warehouse Preparation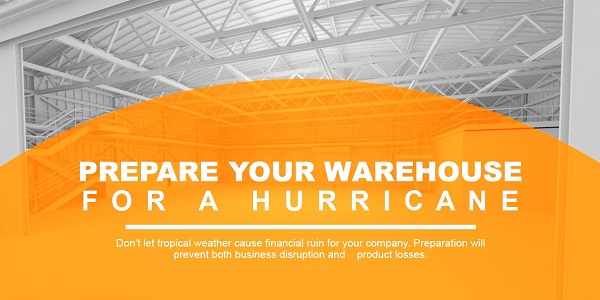 Though hurricane season only lasts from June through November, it's never too late or too early to start planning to prepare your warehouse to avoid suffering damage from a hurricane. You have several chances to protect your warehouse to minimize your losses from a storm. Don't let tropical weather cause financial ruin for your company. Preparation will prevent both business disruption and product losses.
We've prepared this guide to help you keep your warehouse safe during hurricane season. Use these tips to prepare your storage facility for a storm.
Before Hurricane Season Starts: How to Protect Your Warehouse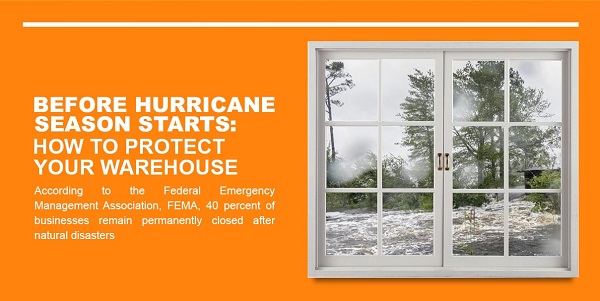 According to the Federal Emergency Management Association, FEMA, 40 percent of businesses remain permanently closed after natural disasters. With preparation, you can keep your business from becoming another statistic.
The best time to prepare your facility for a storm is before hurricane season even starts. Evaluate your finances and storage methods. During and after a hurricane, you may be unable to check on the facility for weeks. Being prepared before the event can ensure a hurricane does not cause your company devastating losses.
What Type of Insurance Does a Warehouse Need for Hurricane Season?
First, check your insurance coverage. Depending on where you live, you may need separate storm and flood policies. You may not be allowed to purchase these policies if a storm is nearby. The best time to get coverage for hurricanes and floods is before the storm season begins.
Flood insurance is a wise investment. It covers flooding caused by rising streams and rainfall. Hurricane insurance typically covers storm surge but not rising water from rain. Most coastal areas affected by hurricanes are in low-lying places, where flooding can occur outside of the storm season. Because flooding can happen at any time of the year, being prepared with preventative measures and flood insurance protects your business.
Reevaluate your coverage each year, especially if your facility has made any significant changes in what it stores or how much it's worth. Between 2006 and 2010, commercial flood insurance claims averaged $85,000, according to FEMA. Don't underestimate how much coverage your warehouse needs.
Before the Storm Hits: Prepare Your Storage Facility
Before a storm hits, there are some things you can do to mitigate damage to your facility and products. Ideally, you will have at least a few days of notice before the storm hits. But sometimes, storms can develop rapidly or change direction, giving you little forewarning.
For instance, in 2004, Hurricane Charley increased its windspeeds from 125 to 145 mph in just three hours. The storm also made an unusual turn to the northeast, striking the Florida coast near Punta Gorda. Florida residents and business owners had little time to prepare for the unexpectedly strong hurricane that crossed the peninsula, spurring 16 tornadoes and almost $15 billion in damage in its wake.
While storms like Charley are the exception rather than the norm, it's best to begin preparations for your warehouse in May. When hurricane season starts on June 1, your facility will only require a few last-minute changes to secure it during the storm.
Implement Warehouse Organization to Prevent Disaster Damage
How you organize your facility can make keeping your warehouse safe before a hurricane easier. Always maintain a complete inventory. The listing of your products will make it easier when you need to move goods for emergency storage. The list will also help your insurance company tally losses from the disaster.
You may need to amend some food storage rules to prepare the space in case of flooding. While food should never come in contact with the floor, don't put consumables on lower shelves. Floodwaters contaminate everything they touch, including containers and the food in them. Storing food on the highest shelves available can reduce your losses during hurricane-caused flooding.
Here are some other ways to protect the storage space at your warehouse during hurricanes:
Make plans for long-term emergency food storage: If you have a climate-controlled warehouse, your facility may have its system interrupted by power outages caused by a hurricane. Additionally, storm waters and downed trees can prevent you or your employees from reaching the facility for days or weeks. Protect anything that requires a controlled climate by finding a storage facility to keep your inventory safe during a hurricane. Arrange for transport of your products to the storage facility to protect the goods during and after the storm passes.
Determine if your facility is in an evacuation zone: If it is, do not retain employees in the warehouse during the hurricane. FEMA does not recommend safe rooms for any buildings in flood zones or evacuation zones. If your warehouse is not in a mandatory evacuation zone, install a safe room where workers can go during the hurricane or a tornado. The safe room needs to be elevated from flooding and cannot have exterior windows.
Decide how you will floodproof your warehouse: Floodproofing is critical for surviving hurricanes. Decide if you should wet or dry floodproof your warehouse. Which you choose depends on if your warehouse is in a flood zone or not.
Implement wet floodproofing: If you have waterproof storage structures and are relocating your inventory off-site, you may consider wet floodproofing, which allows floodwaters to enter the building through strategically placed holes in the walls. Do not use wet floodproofing if you have a climate-controlled facility.
Or implement dry floodproofing: For warehouses that cannot allow water to enter, dry floodproofing is the answer. When you prepare your facility for dry floodproofing, you block out all floodwaters from the interior of the building, keeping it dry. Completely waterproofing the facility requires weather stripping any openings around the windows, doors and exterior walls where water could seep in. The downside to dry floodproofing is the extra stress the exterior walls will sustain from the floodwaters. If meteorologists predict flooding greater than three feet or for standing water to remain for several days, you cannot dry floodproof your facility.
Create a recovery plan before a hurricane comes: Of small businesses that were affected by a hurricane and didn't have a recovery plan, 75 percent failed within three years after the storm. Make your recovery plan before the storm and execute it after the event. When you have a clear idea of how you will restore and continue your business, you're more likely to be successful in the aftermath of the hurricane. Your plan should include how you will pay your workers if electronic fund transfers get interrupted. You also need to arrange with your employees who each will contact and who will return to the warehouse after the hurricane.
When the Storm Threatens: Keeping Stored Goods Safe During a Hurricane
A hurricane watch in your area means you could experience hurricane conditions in the next 48 hours. A warning reduces this time to 24 hours. As soon as your area falls under a hurricane watch, act to move your products to a safe storage facility. Research it beforehand, so you know what to expect. For instance, our facility at Central Florida Freezer has freezer, refrigerator, and ambient storage. Additionally, 24-7 security on-site keeps the products stored there safe.
Aside from securing your products, you'll also need to protect your warehouse during a hurricane. Cover the windows with 5/8-inch plywood to protect them from flying debris. Do not use tape over windows. It is not strong enough to prevent the glass from shattering. Stockpile cut plywood to fit over each window at your warehouse at the start of the hurricane season. Label each board with the window it's cut for in order to speed the installation process. Also implement these precautions:
Offices in your warehouse should have their electronic equipment unplugged and moved at least three feet off the ground to protect it from floodwaters.
Remove necessary files to a safe, dry location, if possible. Otherwise, store them in a waterproof container in the middle of an interior room on a high shelf.
Back up any vital documents to a cloud server. Remote storage of your company's information will allow for access from anywhere after the hurricane passes.
Shut off the power to the warehouse at the breaker box after you've moved your products to a storage facility. Cutting the power before the storm reduces the chances of a surge or fire when power is restored.
Around the warehouse's exterior, clean out any gutters and drains to prevent clogging. Clogged drains may cause flooding on your property. Prevent water from backing up before the hurricane rains begin.
While outside, bring any free tables, chairs, ashtrays and signs inside and secure them. Items left outside and not secured against hurricane-force winds become dangerous projectiles that could damage your warehouse or harm people.
Why Choose an Off-Site Facility?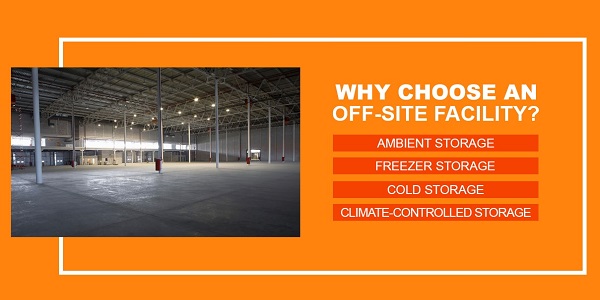 One of the most significant problems after a hurricane passes is the long-lasting loss of power. For instance, in 2017, hundreds of thousands lost power during Hurricane Harvey. It takes a long time for utility companies to restore electricity to that many homes and businesses. Additionally, fallen trees make traveling to outage areas difficult for crews, lengthening the time it takes to restore power. Keeping your products stored at a secure, climate-controlled facility gives you peace of mind that you won't lose your inventory due to a long-term power loss.
Storage facilities offer several types of climate conditions. Use these facilities to keep all your products safe and secure during a hurricane. Removing your products to an off-site facility will reduce your losses and make both recovery from and preparing for a hurricane easier. Here are a few types of storage you can find:
Ambient Storage: Ambient storage keeps products at the same temperature as the air. Though your products might have similar conditions if left in your warehouse, the items won't be secure. At Central Florida Freezer, we have security on hand at all hours of the day. After a hurricane, security becomes vital when looters break into homes and businesses to steal valuables. You can rest assured your products will be safe during and after the storm in our ambient storage facility.
Freezer Storage: When the power goes out, keeping frozen goods between zero and ten degrees Fahrenheit for proper storage becomes more difficult. Our freezer storage maintains the appropriate temperature for safe food storage. We are affiliated with numerous industry organizations to help us keep our food storage quality.
Cold Storage: Our cold storage has customizable temperatures to accommodate multiple uses. Whatever products you need to keep safe during a hurricane, bring them to us. Our facility can protect them from spoilage in a safe, temperature-controlled environment.
Climate-Controlled Storage: Everyone in Florida knows the bane of humidity on storage. Without controlling humidity levels, excessive moisture builds up, which can ruin dry goods. Our facility has climate-controlled room to maintain the cool, dry environment many products require for safe storage.
After the Hurricane: Recovering From a Storm
While using these tips for preparing your storage facility for a hurricane are important, recovery is just as critical to getting your business back on your feet. You won't be able to immediately return to your business until local authorities have declared the area and building safe. Only then can you begin cleaning and restoring your company's operations.
Warehouse Employee Safety After the Hurricane
First, connect with your workers to ensure their safety and availability. Many may not be able to return to work while they repair their homes and care for their families. Those who are available and have unobstructed access to your warehouse need to report for work to assist in the clean-up before you can bring your products back to the facility.
Clean up Your Warehouse After the Hurricane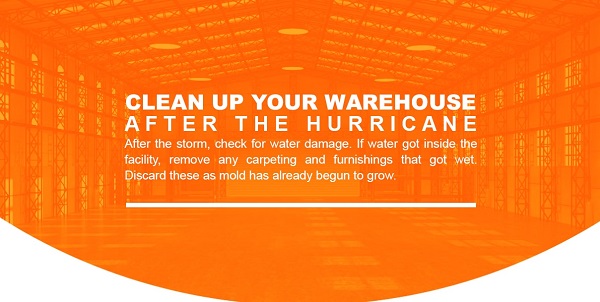 After the storm, check for water damage. If water got inside the facility, remove any carpeting and furnishings that got wet. Discard these as mold has already begun to grow. Before you can restore your products to the shelves, you need to sanitize the floor, walls and shelves that got wet. Create a sanitizing solution by combining five gallons of drinking water with 5.3 ounces of 8.25 percent concentrated bleach.
After sanitizing surfaces, use water to rinse off anything that will contact food. During cleanup, take photographs of damage and compare losses to your inventory of items left in the warehouse. These two tasks will facilitate the insurance claims process after the storm. Don't forget to document structural damage as well. Call your insurance company as soon as possible to have an adjuster evaluate your property to begin the claims process. After cleaning, it's time to mediate pests that may have entered your warehouse from the hurricane.
Pest Control in Your Warehouse After a Hurricane
Any storage facility must control pests, but it's especially important to keep insects and rodents away if you store food. Hurricanes displace animals from their natural habitats, and they will search out any dry places they can find, even the inside of your warehouse. Discard any standing water and clean out containers that held water from the storm. These are breeding grounds for mosquitos that could bring diseases to your employees.
Seal holes anywhere in the facility to keep rats and insects out. Hire a professional pest control company to get rid of any animals or insects that entered your property. Once pests are gone, you can bring your products back from the off-site storage facility.
Contact Us to Discuss Details of Our Hurricane Protection Guide for Warehouses

When you work with us at Central Florida Freezer to store your products during a storm, you make the job of preparing your warehouse for a hurricane easier and reduce your losses. You're not alone this hurricane season. We're here to help. Contact us online or call us at (352) 365-6969 to receive information on or assistance with storing your warehouse products during a storm or at any time of year.