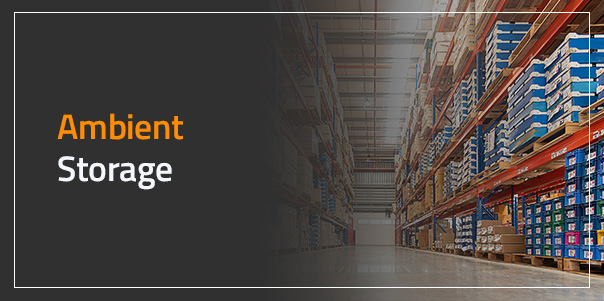 Countless industries rely on warehousing for long-term storage. However, different items require different conditions to preserve integrity and quality. When choosing a storage facility, you should consider your company's and inventory's specific needs. One option is ambient storage. You can use an ambient warehouse to store a wide range of goods, making this option viable for many businesses.
What Is Ambient Storage?
Ambient storage provides a clean, dry and well-ventilated area to secure your products and inventory. Many ambient warehouses feature temperature control methods to ensure a moisture-free environment. According to the World Health Organization (WHO), ambient item and food storage temperatures range from 59 to 77 degrees Fahrenheit (15-25 degrees Celsius) or up to 86 degrees Fahrenheit (30 degrees Celsius) depending on your location.
An ambient warehouse is your inventory's resting place before reaching its final destination, whether it's a storefront or your customer's front door. You should also consider how to streamline your operations and preserve your goods. An ambient storage facility should include:
Import and export methods: You should be able to transport your inventory to and from your ambient storage warehouse at the correct temperatures. Maintaining the same temperatures throughout storage and delivery ensures your products stay in good condition and boosts your efficiency.
Inventory control and quality assurance: Inventory control is essential for tracking your stock and protecting your goods' exceptional quality, especially if they're perishable. With a proper stock management system, you can easily verify which items are coming and going and monitor your inventory's condition.
Cross-docking: Cross-docking involves simultaneously unloading inventory and shipping it to its final destination. If your ambient warehouse can accommodate cross-docking, your products will reach your market faster.
Multiple storage methods: An ambient storage facility should have both racked and bulk storage options to prevent delays and manage extra items. Make sure pallet and case picking services are available so you'll have the appropriate storage materials for all your products.
Digital capabilities: Using technology makes your warehousing and shipping processes smoother and faster. A digital system's clear records will streamline order placements, communication and delivery tracking.
What Is Ambient Storage Used For?

Ambient storage is best for products that need to stay dry and at room temperature. An ambient warehouse is your solution for long-term storage of items such as:
Toys: An ambient warehouse's assortment of storage options can accommodate your toy inventory. You can rely on your storage facility to keep any toys in pristine condition.
Ambient food: You can use an ambient warehouse to store any shelf-stable foods. Examples include rice, canned and bottled foods, pasta and processed foods. You can also store perishable items as long as they've been heat treated or dried. When storing food, it's vital to use a regulated warehouse that adheres to food safety protocols.
Paper: Paper is susceptible to damage from condensation and moisture. With a dry storage area, your paper goods will stay safe from the warehouse to the market.
Electronics: Your electronic goods will be safe from tampering and water damage in a secure ambient storage facility. Professional warehousing also minimizes the risk of damage during transportation and distribution.
Clothes: Ambient storage will prevent your clothing from heat damage, mildew and other harmful factors, making it a great option for fabrics like nylon, polyester and linen.
Versatile and reliable, ambient storage is a popular warehousing form. Many situations call for ambient storage. You might prefer this method if you:
Live in an area with hot or humid weather: In the Florida heat, we keep your products cool. With its regulated temperature and dry internal air, an ambient warehouse provides the appropriate environment for your goods all year round.
Have an expansive inventory: If you sell many items requiring a dry environment, an ambient storage area can accommodate your entire stock. You'll have a secure and convenient location for all your goods.
Specialize in dry items: An ambient warehouse is perfect if you exclusively sell electronic goods, ambient food and other items that benefit from room-temperature storage and dry air.
Are on a budget: Ambient storage is the most economical warehousing method. Because many products can maintain high quality in ambient conditions, you'll save money on temperature-adjusting equipment.
Ambient Storage vs. Cold Storage
Cold storage is another way to protect your goods and preserve quality. The main difference between cold and ambient storage is temperature. Cold storage temperatures range from 36 to 46 degrees Fahrenheit (2-8 degrees Celsius). While many goods can thrive in ambient temperatures, cold storage is better for certain products, including:
Refrigerated foods: If your food products have a use-by date and require refrigeration, cold storage helps you adhere to strict food safety guidelines. You can use cold storage to safeguard fresh produce, chilled meals, dairy products, ready-to-eat foods, fruits and more.
Pharmaceuticals: Appropriate storage conditions are crucial for ensuring your pharmaceutical products are safe to use. Cold storage provides more temperature control and storage options for your vaccines, medications and other drugs.
Makeup: Lower temperatures prevent germs from developing and enhance your cosmetics' longevity. From eye shadow to lipstick, a cold storage warehouse benefits all kinds of makeup.
Flowers: You can preserve freshly cut flowers using cold storage. Your flowers will last longer and reach your customers in prime condition.
Artwork: Cold storage ensures your artwork retains its vivid colors and original paint quality. With low temperatures, you can protect older and more fragile paintings from fading and flaking.
A refrigerated warehouse will keep your fresh, living and perishable items safe and ready for the market. Consider cold storage if your inventory:
Needs a strict temperature range to maintain effectiveness or quality.
Requires increased protection from bacteria, insects and other microorganisms.
You can use ambient and cold storage simultaneously for convenience, security and efficiency. If you plan to outsource your storage, select a facility that offers ambient and cold capabilities in a single location. The best warehouses will let you enjoy the benefits of both under one roof.
Reliable Ambient Storage From Central Florida Freezer
Central Florida Freezer is your top source for streamlined warehousing and shipping. Whether you carry electronic goods, clothing or shelf-stable food, you can rely on us for your ambient storage needs. We pride ourselves on having superior food storage ranking marks and comprehensive services. Our trained professionals, advanced warehouse management software and secure storage facility will keep your inventory safe and in exceptional quality.
With over 5 million cubic square feet of ambient and cold space in our facility, you can store, monitor and dispatch your goods in one convenient place. You'll save both time and money with our efficient truck loading processes and competitive pricing.
Contact us online or call us at 352-365-6969 to learn more about our ambient storage solutions.